The Nottinghamshire Way
The Nottinghamshire Way is an approach intended to create and sustain a positive and inclusive culture that reflects all our collective values and behaviours. The aim is to help us continue developing the key attributes and skills we need our leaders, managers and employees to demonstrate to underpin delivery of the Council Plan.
Our values and behaviours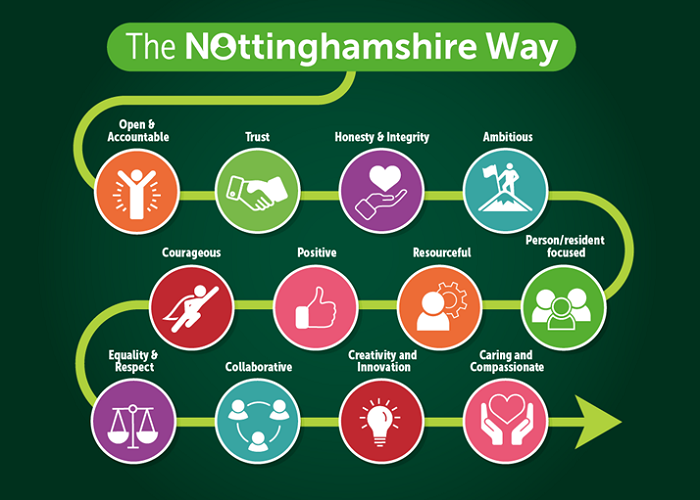 These values and behaviours have been identified as the result of engagement with different teams, and are those which staff have said are most important to us as an organisation:
Open and accountable
Trust
Honesty and Integrity
Ambitious
Person / resident focused
Resourceful
Positive
Courageous
Equality and Respect
Collaborative
Creativity and Innovation
Caring and Compassionate
We want to ensure that these qualities are right across everything that we do, so we all work in a positive environment where we all feel valued, empowered and supported.
The intention is that our values and behaviours will be reflected in our approach to delivering the Nottinghamshire Plan and will determine how we plan to reach our goals, how we want to operate, how we do business, deliver services, and work collaboratively with both internal and external partners.
Goals
The goals of the Nottinghamshire Way include:   
Developing a shared understanding of Nottinghamshire County Council's vision and goals
Working together to deliver the Nottinghamshire Plan and improve outcomes for our residents
Promoting an inclusive culture that reflects all our collective values and behaviours
Promoting a culture where employees feel valued and empowered to share information and knowledge, build relationships, and recognise each other's achievements
Building better and more effective collaboration and partnership working in practice
Creating consistency in use of language, symbols and conversations across all departments
Building on positives, including strength-based approaches and existing departmental change programmes
Creating a cycle of continuous improvement
Building greater confidence in leadership and management
Building and maintaining personal and collective resilience
Trusting people to act independently
Activities
Different activities across the council are designed to support us and strengthen our approach, to help us to deliver the Nottinghamshire Plan in the Nottinghamshire Way. These are illustrated below: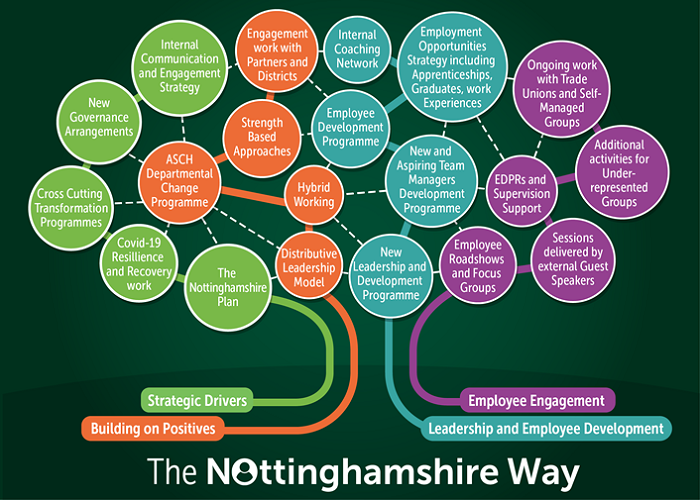 Strategic Drivers
The Nottinghamshire Plan
Covid-19 Resilience and Recovery work
Cross Cutting Transformation Programmes
New Governance Arrangements
Internal Communication and Engagement Strategy
Building on Positives
Distributive Leadership Model
Hybrid Working
ASCH Departmental Change Programme
Strength Based Approaches
Engagement work with Partners and Districts
Leadership and Employee Development
New Leadership and Development Programme
New and Aspiring Team Managers Development Programme
Employee Development Programme
Employee Development Programme
Employment Opportunities Strategy including Apprenticeschips, Graduates, work experiences
Internal Coaching Network
Employee Engagement
Employee Roadshows and Focus Groups
Sessions delivered by external Guest Speakers
EDPRs and Supervision Support
Additional activities for Under-represented Groups
Ongoing work with Trade Unions and Self-Managed Groups