Hagg Farm Outdoor Education Centre
Hagg Farm Outdoor Education Centre is a well regarded and high quality residential facility in the beautiful and inspiring Peak District National Park.
We work closely with schools and groups from Nottinghamshire and further afield to provide individually tailored courses for young people and adults to experience quality outdoor learning experiences. Programmes aim to enrich the curriculum and help learners reach their potential through positive engagement with the education process, increasing confidence, group awareness, healthy activity and fun. The centre is also available for self led groups throughout the year. 
---

---
An experience that some pupils will never have again (outside of school). Teaching staff gained a greater knowledge of our students and their thinking. Brilliant – that's why we come back year on year.
---
Activities
About
Map
Accommodation
Prices
Documents
Hagg Farm Outdoor Education Centre Activities

Hagg Farm offer a range of activities including:
Abseiling
Canoeing
Caving
Gorge Walking
Rock climbing
About Hagg Farm Outdoor Education Centre
Hagg Farm Outdoor Education Centre is located in the Upper Derwent Valley of the Peak District National Park. It offers unparalleled views across the open moors of the Dark Peak, yet is in easy reach of major cities such as Manchester and Sheffield.
The main centre sleep 44 and the John Hunt Base sleeps up to 18 in a separate self contained building.
Although maintained primarily for Nottinghamshire schools, the centre is available to groups wishing to use the centre for accommodation only and is popular with charities, family groups, church organisations - in fact any group wanting to get away from it all and have an experience in the great outdoors.
Hagg Farm provides schools with a qualified outdoor tutor to lead on adventure activities and help with the organisation and planning of the course. Other instructors can be supplied by request to tailor you programme to your aims and budget. Other groups can also access this specialist input to experience a range of exciting outdoor activities using the moors, rockfaces reservoirs and caves that surround the centre.
These activities include rock climbing on the nearby gritstone edges, canoeing on local reservoirs and rivers, caving in the White Peak, orienteering in the local woodlands, hillwalking from the centre, abseiling (including Millersdale bridge), gorge walking, zipwire and a host of problem solving exercises, field studies, conservation and environmental/art activities in the grounds
A range of catering packages are available to suit your groups budget and needs, and all dietary requirements can be accommodated.
Hagg Farm is an AALS registered centre and an accredited course provider for Mountain Leader Training England and The British Caving Association national climbing, hillwalking and caving awards. All staff are nationally qualified and experienced enthusiasts with a passion for sharing their knowledge and expertise.
Some of the benefits of a visit to Hagg Farm for schools and other groups:
Affordable well regarded and reputable residential opportunities in an inspiring national park (within 90 minutes journey time of any Nottinghamshire school) 
Improve and promote physical health and emotional well being through outdoor experiences and enjoyment of outdoor recreation.
Opportunity for whole year group induction packages to increase group cohesion, instil school ethos and cement relationships with staff/pupils and peers
increase independence and develop individual skills to aid the transition from KS2 to KS3 through challenging activities and the residential experience
GCSE PE (adventurous activities) training and assessment weeks at Hagg Farm - have consistently and significantly improved attainment for students at schools that have taken part in these
Targeted courses for disaffected young people to help them achieve success and re engage them with the education process
Courses for class groups to enhance curriculum and bring subjects alive
have fun!
Map
Accommodation
Hagg Farm Outdoor Education Centre provides comfortable residential accommodation within the buildings and grounds of a converted 19th Century hill farm. Walks from the door of the centre lead onto the high moors of Kinder and Bleaklow and around the Ladybower reservoirs and dams.
The main centre provides very pleasant accommodation for 44 people in 2 person to 8 person bunk-bedded rooms. Other facilities include a fully equipped kitchen, large dining room/group room, Wifi, TV/DVD, telephone, classroom, well resourced library/computer room, showers and toilets (one shower and 2 toilets adapted for disabled use) and a drying room.
John Hunt Base
The John Hunt Base is situated in the courtyard at Hagg Farm and has been refurbished so the whole of the base is wheelchair accessible. The attractive, self-contained unit accommodates up to 18 people in 2-person to 8-person bunk bedded rooms. The Base provides a lounge, TV/DVD, payphone, showers and toilets (adapted for disabled use), drying room, and fully equipped kitchen.
Centre Complex
Hagg Farm's main centre and the John Hunt Base are fully centrally heated and well maintained inside and out. The grounds include two car parks, a wildlife garden, field, artificial climbing boulder, tyrolean, jacobs ladder, climbing tower and access to the surrounding woodland. As well as the many off-site and on-site activities, including climbing, caving, orienteering, problem solving and environmental education the site also lends itself to quiet pursuits including art and group retreats.
Groups have sole use of the centre or John Hunt Base during their stay. All bedding, including duvets, sheets and pillowcases is provided at Hagg Farm main centre and in the John Hunt Base.
The centre is flexible to each group's particular needs and plans. Centre staff can provide advice on programme planning and arrange outdoor leadership, activities and equipment if required. The centre also offers a wide range of training and assessment courses leading to National Governing Body awards in the outdoors..
Gallery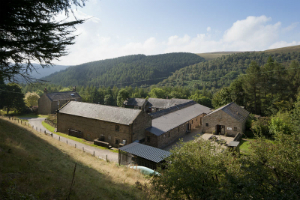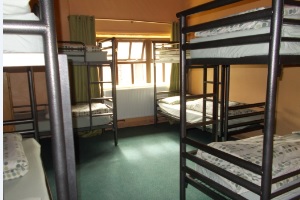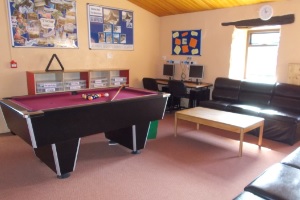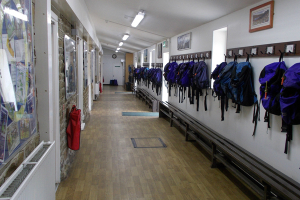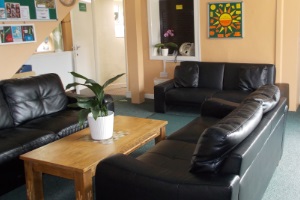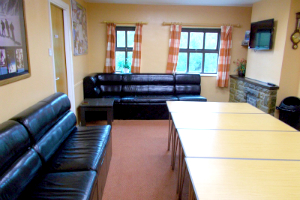 Prices
Prices vary depending on if you are booking from a Nottinghamshire school, a non-Nottinghamshire school, or a private group booking.
1 April 2018 to 31 March 2019
Hagg Farm Main Centre
Sleep 44 - Prices based on 40 pupils
| | | |
| --- | --- | --- |
| Length of booking | Nottinghamshire Schools* | Other Schools* |
| 6 days / 5 nights | £4,040 | £4,790 |
| 5 days / 4 nights | £3,360 | £3,972 |
| 4 days / 3 nights | £2,661 | £3,156 |
| 3 days / 2 nights | £1,856 | £2,150 |
| Weekend (2 nights) | £1,774 | £2,090 |
*includes one instructor, all kit, linen and sole use.
Private Group Bookings
£23 per person per night with minimum charge for 25 people (ie £575pn).
Minimum 2 night booking (min 3 nights Christmas and New Year)
John Hunt Base
Sleeps 18 - Prices based on 14 pupils
| | | |
| --- | --- | --- |
| Length of booking | Nottinghamshire Schools* | Other Schools* |
| 6 days / 5 nights | £985 | £1,110 |
| 5 days / 4 nights | £864 | £932 |
| 4 days / 3 nights | £666 | £750 |
| 3 days / 2 nights | £444 | £500 |
*includes all kit, linen and sole use.
Private Group Bookings
£289 per night and minimum 2 night booking
(min 3 nights Christmas and New Year)
Optional Extras - Available for both centres
Additional Instructor led activities (ratio 1:12 pupils/adults)
Nottinghamshire Schools - From £135 per half day depending on activity
Other Schools/Private bookings – From £140 per half day depending on activity
View all available activities
Catering Options
£13.50 pppn - includes cooked breakfast
£11.00 pppn - includes cereal & toast breakfast 
For more specific pricing and a draft programme of activities please contact us: