4Uth 2017 winners
The Nottinghamshire Outstanding Achievement Award 4Uth is a Nottinghamshire County Council initiative to celebrate the achievements of young people across the county.
There were 85 nominations from across Nottinghamshire this year.
Judging panels in each district decided the winners from three nominations in each district, and a judging panel assessed the final seven.
County Hall hosted this year's final on 27 October. The achievements of seven district winners were celebrated and the overall county-wide winner was awarded to Kaitlin Rose.
Around 100 people including family and friends of each of the finalists and members of the youth service attended along with Nottinghamshire County Council Leader Councillor Kay Cutts and Chairman Councillor John Handley.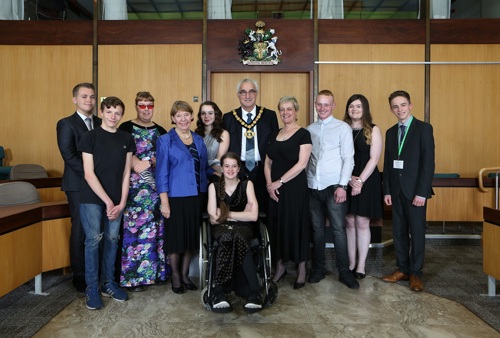 Rushcliffe winner: Jacob Hill
Teenager Jacob Hill has been rewarded for his academic efforts by being named as the Rushcliffe winner of this year's 4Uth awards.
Jacob is 17 and lives in Cotgrave with mum Sharon, dad Paul and brother Dominic, 20.  He was nominated for the award by Chris Seager, Nottinghamshire County Council youth worker.  Chris nominated Jacob because of the way in which he has overcome barriers to succeed academically, gain full-time employment and become a valued contributor to the youth centre he attends.
Chris said: "Jacob is a helpful and mature member of the Young People's Centre at Keyworth.  He is a senior member at the club and helps out on junior club sessions by serving behind the coffee bar, leading activities and setting a positive example to the younger members. In the past, he has voluntarily refereed football matches for Under – 7's and also had a part-time job in the local community.
"Two years ago Jacob was diagnosed with OCD (Obsessive-Compulsive Disorder) and depression.  This came as a big shock for him and happened at a time when he was beginning his GCSE studies and making important decisions about his future.  Ordinarily this would have been a stressful time which was only compounded by the pressure of facing his diagnosis."
Jacob remained at school and was committed to his studies whilst having to begin medical treatment which included being put on anti-depressants and being prescribed CBT - cognitive behavioural therapy to combat his OCD symptoms.
This caused a drastic change in Jacob's personality, causing him to become quiet and withdrawn from the groups and communities he had been previously so willing to serve.  He became isolated from his friends and family and withdrew into himself.
Despite this, Jacob persevered with the treatment while continuing to study for his GCSEs.  He was able to achieve his predicted grades in his exams.  He has been through his treatment and now he is on the other side of his diagnosis he is returning to his previous self. He has a full-time job working for a logistics firm and is applying to serve in the armed forces.
Chris added: "Jacob has also returned to his volunteering role and continues to be a positive and influential influence at Keyworth Young People's Centre.  He supports his peers and other club members and ensures that club users have a good example to follow and someone to look up to.  He also helps lead discussions and debates during sessions."
Mum Sharon said: "We are absolutely proud of him – it has been a testing time but he has got through it and fully deserves this recognition."
Councillor Tracey Taylor, Vice-Chairman of the Children and Young People's Committee, said: "Many congratulations to Jacob on his achievement and it is great that he has been awarded the district winner of the 4Uth award for Rushcliffe having overcome adversity."
---