4Uth 2017 winners
The Nottinghamshire Outstanding Achievement Award 4Uth is a Nottinghamshire County Council initiative to celebrate the achievements of young people across the county.
There were 85 nominations from across Nottinghamshire this year.
Judging panels in each district decided the winners from three nominations in each district, and a judging panel assessed the final seven.
County Hall hosted this year's final on 27 October. The achievements of seven district winners were celebrated and the overall county-wide winner was awarded to Kaitlin Rose.
Around 100 people including family and friends of each of the finalists and members of the youth service attended along with Nottinghamshire County Council Leader Councillor Kay Cutts and Chairman Councillor John Handley.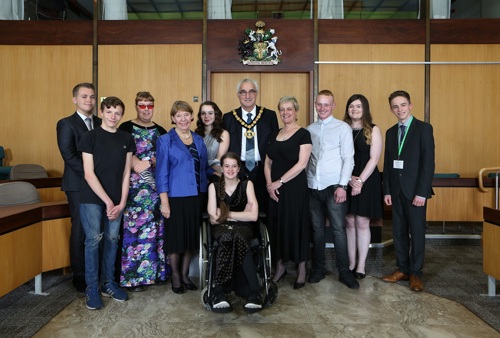 Newark and Sherwood winner: Leah Pearson
Swimmer Leah Pearson has been rewarded for her significant achievements in the pool by winning the Newark and Sherwood 4Uth district award.
Leah is 14 and lives in Newark, with mum Kate, stepdad Ian, twin sister Chloe and younger sister Amy.  She was nominated for the 4Uth award by Heather Whitaker, her swimming coach with the Nottinghamshire County Council Schools Swimming Service.  Heather nominated Leah for her determined attitude in overcoming barriers presented by disability to achieve her goals and success as a swimmer.
Heather said: "Leah battles pain, physical disability and having autism to train with determination and commitment with the aim of perfecting her swimming to the highest level she can.  Leah started swimming at the age of six, and was terrified even to put her face in the water. But even at that young age, the fact that her sisters could do it motivated her to do the same.
"I was introduced to Leah in 2013 as part of the Nottinghamshire Schools Swimming Bridging Club. Already by that stage she was a keen swimmer finding that this activity gave her relief from the pain in her knees, feet, wrists and legs caused by her condition Elhers Danlos Syndrome (EDS), a genetic condition which prevents the usual development of connective tissues in the body.  This can lead to musculoskeletal complications leading to dislocations and subluxations and can be very painful."
Gaining Leah's trust was a big part of their initial swimming sessions. Her autism means she only talks and looks at people she trusts. Initially she would tell her mum what she wanted to say, so the message could be passed on. Finally though Leah started to speak directly to Heather.
Heather added: "Now I know her more, it feels like a privilege to share a joke or discuss her training goals directly with her during our swimming sessions together.
"We started by working through the goals set by the schools swimming service, but we soon completed those and moved on to the Swimming Teachers' Association (STA) badges, which again we completed over time. It became clear that Leah needed a bigger goal, so she decided on the route of competitive swimming. She has joined a number of swimming clubs and most weeks will swim 4/5 times a week, spending over five hours a week in the pool."
Leah has now been swimming with Nova for 18 months and Penguins for three years. She has entered galas at Sheffield, Manchester, Nottingham and Leicester. She has won various events, medals and trophies as a result of her efforts and achievements.
Councillor Tracey Taylor, Vice-Chairman of the Children and Young People's Committee, at Nottinghamshire County Council, said: "Leah has achieved so much already despite her young age and has enjoyed a lot of success in the swimming pool – it is great that she has also now been recognised through the 4Uth awards."
---