4Uth 2017 winners
The Nottinghamshire Outstanding Achievement Award 4Uth is a Nottinghamshire County Council initiative to celebrate the achievements of young people across the county.
There were 85 nominations from across Nottinghamshire this year.
Judging panels in each district decided the winners from three nominations in each district, and a judging panel assessed the final seven.
County Hall hosted this year's final on 27 October. The achievements of seven district winners were celebrated and the overall county-wide winner was awarded to Kaitlin Rose.
Around 100 people including family and friends of each of the finalists and members of the youth service attended along with Nottinghamshire County Council Leader Councillor Kay Cutts and Chairman Councillor John Handley.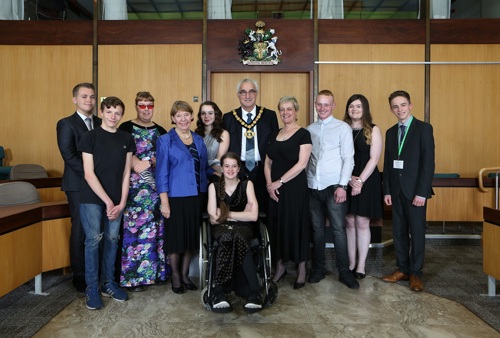 Mansfield winner: Ebony Pearson
Young carer Ebony Pearson has been named as the 4Uth district winner for Mansfield.
Ebony is 17, lives in Warsop, and has been nominated for the award by Kerry Musgrove who works in the county council's Family Service intervention team.  Ebony manages extensive domestic caring responsibilities for her parents Hazel and Christopher alongside her academic studies.
Kerry explains: "Ebony is an exceptional young lady. She is currently taking her A-Levels at Meden School in Warsop and her progress is excellent - she is managing to maintain high educational standards whilst taking on a significant caring role at home.
"Both of Ebony's parents have health issues and mobility difficulties requiring additional care which she provides alongside taking on a lot of the household duties.  In addition, Ebony offers a great deal of support for her younger brother, Lewis, who has Attention Deficit Hyperactivity Disorder (ADHD) and Autistic Spectrum Disorder (ASD). Ebony helps Lewis with his homework and also supports him in school where at times his behaviour can be challenging.  At weekends Ebony will take Lewis out to engage him in positive activities as his parents are not always able to do this because of their own health issues."
On top of all this Ebony still manages to hold down a part-time weekend job as a waitress and she attends Cadets twice a week where she is responsible for ensuring standards of attendance and punctuality among team members are maintained.
Kerry said: "Ebony's attitude and motivation to everything she does never fails to impress me and, whilst she sometimes feels a little overwhelmed with the many things she deals with in her life, she always adopts a determined attitude of getting on with things and will brush herself down and carry on.
Councillor Tracey Taylor, Vice-Chairman of the Children and Young People's Committee, at Nottinghamshire County Council, said: "Many congratulations to Ebony for winning the Mansfield district 4Uth award, and it is very deserving in view of everything that she does balancing her caring duties alongside many other commitments."
Ebony's mum Hazel added: "We are overwhelmed that Ebony has won this award and we are as proud of her as it helps to give recognition for everything that she does."
---