4Uth 2017 winners
The Nottinghamshire Outstanding Achievement Award 4Uth is a Nottinghamshire County Council initiative to celebrate the achievements of young people across the county.
There were 85 nominations from across Nottinghamshire this year.
Judging panels in each district decided the winners from three nominations in each district, and a judging panel assessed the final seven.
County Hall hosted this year's final on 27 October. The achievements of seven district winners were celebrated and the overall county-wide winner was awarded to Kaitlin Rose.
Around 100 people including family and friends of each of the finalists and members of the youth service attended along with Nottinghamshire County Council Leader Councillor Kay Cutts and Chairman Councillor John Handley.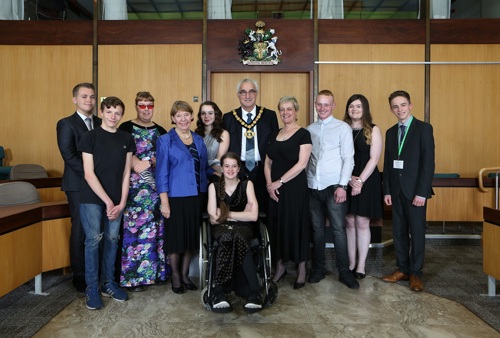 Bassetlaw winner: Ellie-May Bott
Ellie-May Bott has been named as the Bassetlaw district 4Uth winner for her charitable work in the community and overcoming personal issues.
Ellie-May is 14 and lives in Manton.  She was nominated for the award by Noelle Baron, who is the manager of the Focus on Young People in Bassetlaw charity.
Noelle explains: "Ellie May has lived in various places due to her father being in the HM Armed Forces. Following the death of her great grandmother, she lost confidence in herself and her self-esteem suffered.  She was entered for the Miss Junior Worksop competition in an attempt to boost her self-esteem and she was successful.  This helped her regain some of her self-confidence.
"Ellie-May has a developing relationship with many of the local charities in Worksop and the Bassetlaw area and she has supported many community events. She has collected over £140 worth of food for the food bank and donated her own money to help out."
In addition she has raised £230 for the Children Variety charity through online raffles and £65 for Worksop Town Football Club by running a Tombola stall.  She was invited by the club to give out medals at a recent football match.
Councillor Tracey Taylor, Vice-Chairman of the Children and Young People's Committee said: "Ellie-May is an excellent role model for other young people with her tireless work for her local community and she is a deserving winner of the Bassetlaw district 4Uth award."
Ellie-May lives at home with dad Luke, mum Kerry and ten-year-old brother Jozef and she has also supported Tesco by helping to run a children's Easter competition, and volunteered at the Centre of Sport and Learning (CSL) in Manton, helping with under-8's dance classes and running summer activities for local children.  She recently helped out at the recent Focus on Young People in Bassetlaw annual fun run.  She has also supported and helped out at Bassetlaw Children's Day, Worksop's Got Pride events and Worksop Festival charity event.
Ellie-May took part in the Britain's Junior Miss awards and won the title of Britain's Junior Miss Eco for which she made a Robin Hood outfit from recycled items to represent the community in which she lives.
Ellie-May's dad Luke said: "We are really proud of Ellie-May and she has become more confident with everything that she has achieved."
---