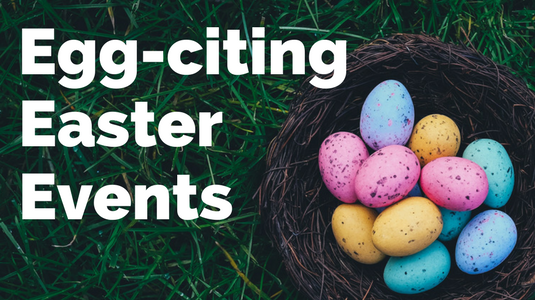 Top events for Easter
Rufford Abbey Country Park
Saturday 30 March - Sunday 28 April
£2 per trail
Follow a map through the beautiful gardens to seek out fun scenes of spring, with a chocolate treat at the end!
---
Sherwood Forest Visitor Centre
Saturday 6 - Sunday 28 April
£2 per trail
Wiggle your tail and flick your ears, the Easter Bunny is looking for new recruits! If you can complete all the challenges around the Major Oak Trail you can claim your reward at the end.
---
The Mill Adventure Base
Monday 8 - Thursday 18 April
£27 per child, per day
Easter holiday adventures start right here! The Mill Adventure Base is a fantastic day out for the kids - with a wide range of fun-filled activities, they'll get to learn new skills whilst making new friends.
---
Various libraries
Wednesday 10 – Friday 12 April
£6.00
Featuring new music, dance and puppetry, Mashi's playful and colourful style takes you on an adventure to the Indian jungle, where tigers and honey bees struggle for survival. For children aged 5+
---
Skegby and Stanton Hill Library

Monday 8 - Saturday 13 April 2019

 

Free
Make your very own Easter bunny mask and take part in Easter colouring, all week long.
---
Harvey Hadden Sports Village

 

 

Tuesday 9 April

 

£8.00
A safer cycling activity day for 10–14 year olds featuring workshops on a cycling track, on road and maintenance.
---
Forest Town Library

 

 

Thursday 11 April

Free
Come and join the Easter fun, and make your own butterfly feeder to attract beautiful butterflies to your garden.
---
Mansfield Central Library
Monday 15 April

Free
Have delicious fun with your child and learn how to make Easter bunny fondant cake toppers for cupcakes. For parents or carers with kids aged 7-10 years old. All materials provided.
---
Eastwood Library

 Free

 

Thursday 18 April

Free
Get creative at our Easter themed craft session
---
Sherwood Forest Visitor Centre
Saturday 13 April
£5.00
Listen to local children's book author Adrian Sissons in a reading of the first book in the Robin Hood's Little Outlaws series, followed by colouring, puzzle activities, book signing and more. Suitable for children aged 5-10.
---
Sherwood Forest Visitor Centre
30, 31 March, 6 - 19 April, 27, 28 April
£4 for 6 arrows
Think you've got what it takes to be an outlaw? Here's the chance to put your archery skills to the test with Reach the Core Historic, providing traditional English Archery for all ages at the home of Robin Hood this Easter.
---
Check out all our events happening across Nottinghamshire.