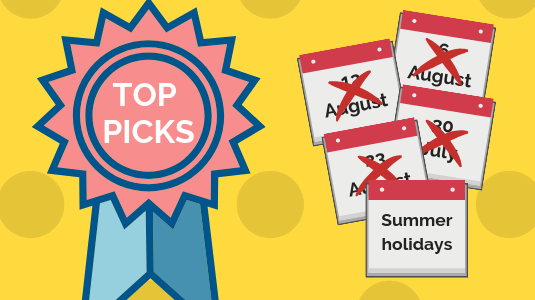 Top events for summer
---
Robin Hood Festival
Sherwood Forest Visitor Centre
5 - 11 August
£6 per vehicle car parking
No need to book
This year's festival is promising to be a belter, with a brand-new live show featuring Robin Hood, his merry men, Marian and the Sheriff plus Cavalry of Heroes jousting, comedy, magic tricks, potions, medieval music, falconry, wacky characters, tricks, stunts and more!
---
Superhero Trail
Rufford Abbey Country Park
20 July - 1 September
£2
No need to book
Come and train to be the ultimate superhero, follow a trail to win points, defeat baddies and earn your very own super powers! 
---
Have-A-Go Archery at Sherwood Forest
Sherwood Forest Visitor Centre
20 July - 1 September
£4 for 6 arrows
No need to book
Think you've got what it takes to be an outlaw? Here's the chance to put your archery skills to the test, at the home of Robin Hood! 

---
 Summer reading challenge 
Various libraries
25 July - 7 September
Free
No need to book 
Take the challenge and join a range of fun and educational events throughout July and August.
---
Outdoor cinema screenings
Rufford Abbey Country Park
26 July - 18 August 
£10 per person (or book 4 tickets for £35)
Booking essential
A series of classic and contemporary film screenings in the grounds of the beautiful Rufford Abbey Country Park. Bring along your blankets, sit back, relax and enjoy the cinema experience!
---
Cycle training 
Various venues
July – August
Prices vary
Booking essential
From learning to balance on a bike to riding a bicycle without assistance, check out our cycle training courses suitable for a variety of ages and abilities. 
---
Summer Half Term Holiday Club 
The Mill Adventure Base
29 July - 30 August
£27 per day
Booking essential
A fantastic day out for the kids with a wide range of fun filled activities, from archery and indoor climbing to zip-wiring and kayaking! This holiday club is suitable for young people aged 8 – 12 years.
---
The Story of Sherwood - Guided Walk
Sherwood Forest Visitor Centre
26 July - 1 September
£5.00 adult, £2.50 child 
Booking advised
Learn how Sherwood has been shaped over thousands of years by natural and human forces to become the iconic place we know today. 
---
 Girl of ink and stars  
A new play touring 20 library venues across Notts
26 July - 11 August 
£6 (£3 for concessions)
Booking advised
A tale of maps, myth and monsters in a new play by Satinder Chohan, based on the book by Kiran Millwood Hargrave.
---
 Punch and Judy shows 
Rufford Abbey Country Park
7 - 28 August
Free
No need to book 
Paul Temple Entertainment's Punch and Judy show has been updated for modern audiences while retaining all of the traditional fun and excitement.
---
 Family Arts Workshop: Alien Animation
Various libraries
5- 29 August
Free
Booking essential
Take part in these workshops which aim to be out of this world!  
Make an alien out of modelling clay and design a speedy space craft to zoom off into space. Work with our digital artist to animate your creations and turn them into a GIF.
---
 Family Arts Workshop: Space Stories
Various libraries
29 July - 22 August
Free
Booking essential
Inspired by the Summer Reading Challenge 2019 theme Space Chase, join author Steve Smallman for this hilarious space inspired workshop. You'll be drawing planets, spaceships and lots of aliens and writing silly poems about them too.
---
Pond dipping at Rufford
Rufford Abbey Country Park
Wednesday 7 & 21 August, 2pm
£5 per child, suitable for ages 4+
Booking essential
Join in and explore the murky depths of Rufford's wetland. With ID keys you will learn to identify the variety of aquatic life that Rufford's waterways call home. 
---
 Evening Bat walks at Sherwood
Sherwood Forest Country Park
Friday 16 August & 6 September
£7.50 or £6 for RSPB members 
Booking essential
Join us on an evening walk to learn more about the bats of Sherwood Forest and their association with the world famous ancient oak trees.
---
 Dinosaur explorers

Various libraries
6, 7, 8 August
Free
Booking required
Explore the world of dinosaurs with crafts, maths and science. Fun workshops for parents/carers and their children to enjoy a range of creative craft activities.
---
 Meadow sweeping at Rufford
Rufford Abbey Country Park
Wednesday 14 & 28 August, 10.30am
£5 per child, suitable for ages 4 +
Booking essential
Explore the wild meadow and discover what lives within. Using nets, magnifying glasses you will be able to identify things that flutter. 
---
Check out all our events happening across Nottinghamshire.
---