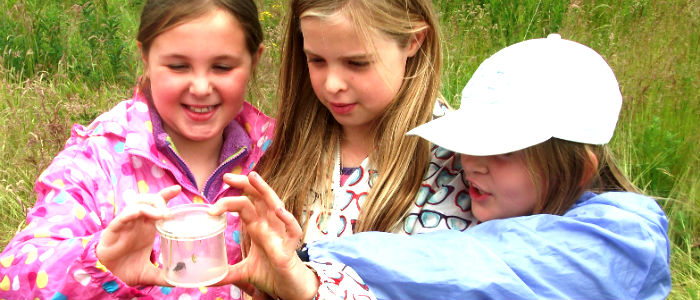 Key Stage 1 & 2
The Outdoor and Environmental Education team has offered a wealth of opportunities for primary pupils for over 25 years and has an enviable reputation for quality, safety and curriculum enrichment. Activities and courses are tailored to meet the needs of individual schools through bespoke packages and we have a long standing relationship with schools throughout Nottinghamshire and beyond. They all present outstanding value for money and are staffed by committed outdoor tutors with years of experience and national qualifications in many outdoor disciplines.
Perlethorpe, Brackenhurst and Sherwood Environmental Education Centres are all located within Nottinghamshire in unique settings. They offer activities which enrich learning through the environment, develop children's understanding and contribute to literacy, numeracy, humanities. They also provide one night camps in the summer for younger pupils.
Hagg Farm Outdoor Education Centre and St Michael's Environmental Education Centre offer warm, comfortable and high quality accommodation in the heart of the Peak District National Park. Groups get sole use of the facilities allowing a real home from home atmosphere. WiFi, widescreen TV, games areas and access to the stunning countryside ensure that pupils and staff have a memorable time. The centres can be booked as a self catering package or with catering and pupils are provided with waterproofs, boots and rucksacks, in addition to all bedding/linen.
Located in the heart of Hathersage village, St Michael's accommodate 38 and offers curriculum linked activities including orienteering, conservation, hill walks and stream dipping. It is ideal for younger primary pupils experiencing their first time away from home.
Hagg Farm is situated in a stunning location in the Derwent Valley, and provides learning through adventure in the outdoors. For KS2 pupils, the centre accommodates 44 with an additional base for 18, and activities include climbing, caving, canoeing and gorge scrambling in the local area, in addition to sessions onsite. All these aid personal and group development and enrich the curriculum through learning outcomes/ objectives.
The Mill Adventure Base is an impressive bespoke centre near Sutton in Ashfield and allows single day visits for pupils to experience land and water adventurous activity, and also ecology/field studies. In addition the team can visit you at school with arrange of exciting sessions including climbing tower and mountain biking. Recently the centre has developed cosy camping pods, for one night residential experiences for younger whole class groups.