Services we offer
The Community Archaeologists work with local groups to explore their heritage and offer a wide range of services.
Archaeological project advice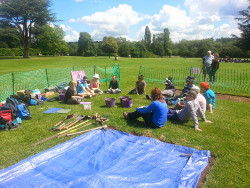 Our small team of Community Archaeologists is frequently the first port of call to offer impartial advice and support for groups wishing to set up their own projects. We have many years experience of working with local people on a wide range of archaeological projects.
We can help you:
come up with ideas

plan your project

give advice on funding opportunities and writing applications

carry out consultation

advise on how to involve the local community

assist with research

provide training and assistance with fieldwork, post-excavation and report writing.
We run an annual archaeological field school where beginners can learn excavation techniques and gain hands-on experience of digging, recording, drawing, site photography and identifying finds.
Talks
We are available to give talks free of charge to local groups and societies. We have given lectures and talks to numerous groups including the Council for British Archaeology (East Midlands), the University of the Third Age, Women's Institute,  local archaeology and history societies, museums and libraries.
Talks currently offered include:
Segelocum Roman Town
The Archaeology of Rufford Abbey
Community Archaeology Projects in Nottinghamshire
Tailored talk on the archaeology of a Nottinghamshire village/town/parish
Please contact us for a full list of talks.
Workshops
Workshops can be booked for private groups, and also form part of our events listings for the general public. Some examples are:
Bright sparks - learn about ancient firelighting techniques and have a go at making fire
Dyes and textiles - history of spinning and dyeing, and cloth manufacture with practical element (not suitable for under 10s due to handling of dyes)
Prehistoric pots - learn the origin of ceramics and make your own clay bowl.
Guided archaeology walks
We run guided archaeology walks at Rufford Abbey Country Park and Sherwood Forest Country Park. Other walks can be tailored to your local area.
Contact us
For more information on any of the above services, please get in touch:
telephone: 0300 500 80 80
email: community.archaeology@nottscc.gov.uk