Sherwood Forest visitor centre development
Introducing the new visitor centre
BBC East Midlands Today visited the development site as the finishing touches were being made to the new centre - take a look at the fantastic video below!
A bright new chapter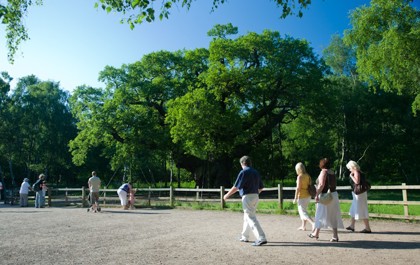 A consortium led by the RSPB was chosen by the County Council as the preferred bidder to design, build and operate the new visitor centre and to manage the stunning natural habitats within Sherwood Forest Country Park.

The consortium also features The Sherwood Forest Trust and Thoresby Estate as part of a £6m investment programme.
Around 350,000 visitors visit the park each year and the hugely successful Robin Hood Festival will take place again in 2018.
Sherwood Forest will continue to be free to visitors.
What is the vision? "To protect, preserve and enhance the ecology and heritage of the world famous Sherwood Forest for all visitors; to promote and enhance the national and international reputation of the Forest and the legend of Robin Hood; to have a modern visitor offer that reflects the status of Sherwood Forest and Robin Hood."
The old visitor centre site will be returned to natural heathland. The new centre is on land at Forest Corner, close to Edwinstowe village. Find out more about the new visitor centre on the Visit Sherwood website.
Did you know? This project is the most cost effective solution in the long term for the County Council and taxpayers. Over the term of the 20-year contract, it is estimated to return savings of between £7m and £8m.
About the consortium
The RSPB - the country's largest nature conservation charity, inspiring everyone to give nature a home. Together with our partners, we protect threatened birds and wildlife so our towns, coast and countryside will teem with life once again.
The Sherwood Forest Trust – based in Edwinstowe, for the past 20 years the Trust, which is a charity, has been working exclusively for the benefit of Sherwood Forest and its wider environs.
Thoresby Estate - a major local landowner, including the land on which the current centre and the Major Oak sit.
Did you know? Thoresby Estate is the land owner while the County Council currently has a 20-year lease to manage the country park in accordance with guidelines set down by Natural England.