Latest news and events
Queens Award for Enterprise 2021
Congratulations to  G. H. Hurt & Son Ltd and InSight Analytics Solutions Ltd. trading as ONYX InSight.who have been awarded prestigious Queen's Award for Enterprise 2021
Further information about the Queen's Award for Enterprise
Queen's Award for Voluntary Service 2021 
Congratulations to Equation in Nottingham who were awarded the Queen's Award for Voluntary Service 2021.
Further information about the Queen's Award for Voluntary Service
Christmas and New Year message
The Lord-Lieutenant of Nottinghamshire, Sir John Peace, shares his Christmas message and wishes Nottinghamshire residents a Merry Christmas and a Happy New Year.
Covid-19   #ThankOurChildren
The Lord-Lieutenant of Nottinghamshire, Sir John Peace, is today launching a major initiative to thank every child and young person in Nottingham and Nottinghamshire, following on from HM The Queen's recent broadcast to the nation.
We want to recognise the determination, resilience and motivation of children and young people, which is helping the National effort in succeeding together during the coronavirus outbreak.
You can download the Lord-Lieutenant's Certificate, which has been created in partnership with the Chief Constable, the Chief Fire Officer, NHS Accountable Officer, Nottingham City and Nottinghamshire County Council.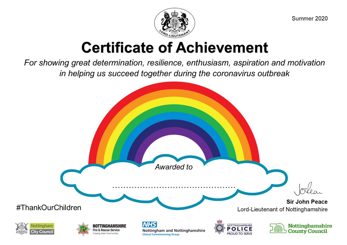 The Lieutenancy is the link between the Monarchy and the County of Nottinghamshire. It represents and upholds the dignity of the Crown, arranges Royal visits to the County and celebrates the achievements of the people of Nottinghamshire and their service to others.
VE Day 
On the 75th anniversary of VE Day in Europe, Lord -Lieutenant of Nottinghamshire, Sir John Peace performed a reading to pay tribute to those who gave so much. 
The Queen's Birthday Service
The Queen's Birthday Service was broadcast from Southwell Minster on 14 June 2020.  A unique celebration of public service in Nottinghamshire, with a particular focus on celebrating the work of the NHS and the nursing profession in this International Year of the Nurse and Midwife.
You can watch the recording of the service on the Worship Online page of Southwell Minster.
Black Lives Matter
The killing of George Floyd in the US has had a distressing and significant impact across the world and a profound impact on many of us here in the UK. This shocking event has so clearly highlighted the continuing global impact of racism and its lasting effects on our community, and the response has been universal. An unprecedented number of young people from all walks of life and racial backgrounds have come out to protest in UK cities and towns in the past 2 weeks, including over 4,000 in Nottingham, sharing their distress at yet another racially motivated killing and at the systemic racial inequalities that still prevent them from equal access to equal opportunities. The Lieutenancy condemns all forms of prejudice.
Many prominent individuals, public bodies and institutions have issued statements in support of Black Lives Matters, including the police, universities, the church and leading companies. We need to work together and champion the work that is already being done, and at the same time address the need for long lasting change.
As leaders and influencers, we have a duty and a responsibility to understand, highlight and promote the needs of our communities and offer our support. We have to truly understand their needs through a strong and meaningful commitment to dialogue and inclusion if there is to be significant and real change in our society. Investing and resourcing that change must be on everyone's agenda if our young people and future generations are to have positive role models and mentors from within our schools, universities, boardrooms and future jobs.
We now have an opportunity and a momentum to institutionalise positive change for a healthier and safer society so that all families can not only survive but thrive.
Sir John Peace
Lord-Lieutenant
72nd Anniversary celebration to honour the Windrush generation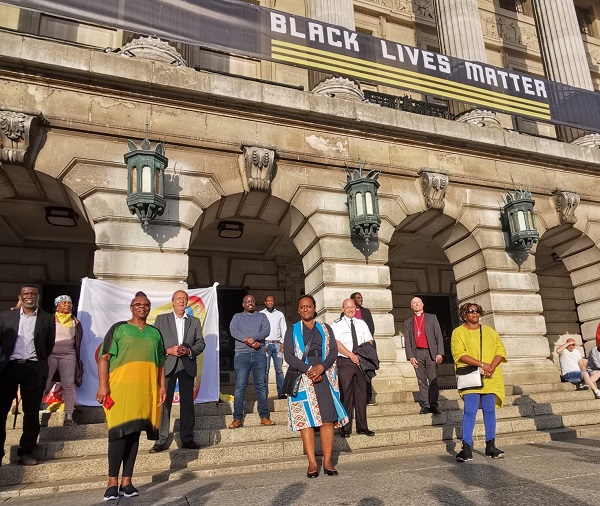 Monday 22nd June, marked the 72nd anniversary of the landing of SS Empire Windrush at Tilbury Docks in 1948 carrying passengers from the Caribbean, who were invited to Britain to assist with post-war reconstruction.  Deputy Lieutenant Veronica Pickering attended a reception at Nottingham City Council to celebrate the Windrush generation. 
Royal Visit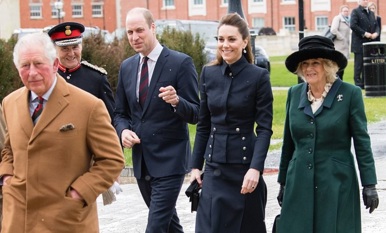 TRH The Prince of Wales, The Duchess of Cornwall, The Duke of Cambridge and The Duchess of Cambridge visited the Defence Medical Rehabilitation Centre (DMRC) in February 2020
A rare joint engagement saw the four Royals visit the DMRC to meet with patients and their families, and staff.
Further details of the visit can be found on Prince of Wales website and the Kensington Palace Twitter page
Hucknall Community Christmas Lunch 2019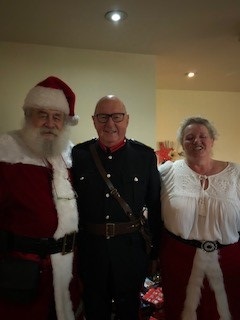 Deputy Lieutenant Dr Richard Bullock OBE represented the Lord-Lieutenant at a Community Lunch on 9 December.  Organised by Jan Lees, the event recognises the spirit and generosity of the Hucknall Community, with 150 people attending.  The Tea House kindly provided the venue and food, with other contributions of mince pies, presents and volunteer helpers from The Coop, Tesco and Specsavers.  Several local councillors also attended including Cllr Phil Rostance who provided the singing entertainment and the Chairman of Nottinghamshire County Council, Cllr Kevin Rostance.
Volunteer organisations can be nominated for the Queen's Award for Voluntary Service, the highest award given to local volunteer groups across the UK to recognise outstanding work done the community.    Further details are available on the QAVS Website.
Commonwealth Reception, November 2019
More than 150 Commonwealth citizens attended a reception at the Council House in Nottingham to celebrate the contribution their countries have made to the county's heritage, success and prosperity.
Historically, the city and county have long-standing relationships with Commonwealth countries through trade and education, more recently welcoming those who have chosen to live here making it their permanent home.
Many of the citizens from Commonwealth countries settled in Nottingham in the late 1940s onwards becoming stalwart members of the community, helping to rebuild Britain after the ravages of the second world war and supporting the then newly established National Health Service.
Today, the city and county is home to many who trace their heritage back to one of the 53 Commonwealth countries such as India, Pakistan and the West Indies and have pursued careers as entrepreneurs, doctors, lawyers and academics among others.
Hosted by the Lord-Lieutenant, Sir John Peace, the reception marked the 70th anniversary of the creation of the Commonwealth whose roots go back to the days of the British Empire. Most countries are now self-governing but choose to retain membership of the Commonwealth headed by HM The Queen.
Sir John is keen to recognise and celebrate the role played by the county's many citizens whose ethnic heritage is in a Commonwealth country.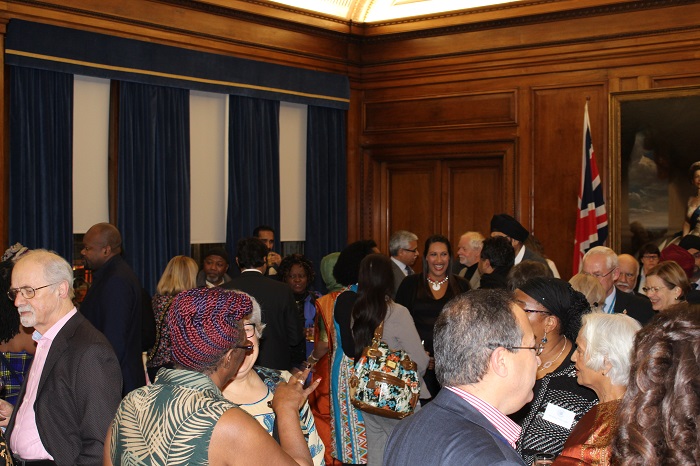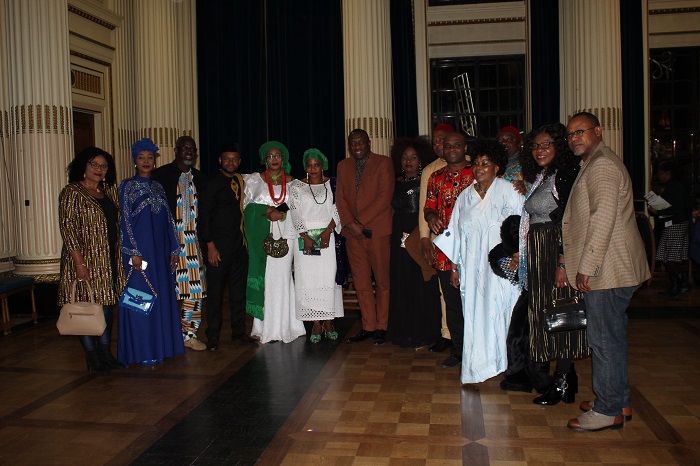 Games of Remembrance 2018
Nottinghamshire Lieutenancy was very proud to support the Games of Remembrance that took place on 8 November 2018, to mark the Centenary of the armistice, harnessing the power of football to ensure the memory of WW1 lives on.
Two football matches between the British and German Army were played. A women's match hosted at Notts County FC and a Men's match hosted at Nottingham Forest FC. Over 14,000 people attended the two events, including over 6,000 school children.
The Games were jointly chaired by the Sir John Peace, Lord-Lieutenant of Nottinghamshire and Major Mitch Mitchell, Chair of the Army FA.
Photos and further information about the project can be found on the Games of Remembrance website.
Centenary of the Representation of the People Act
Marking the centenary of the 1918 Act which enabled young men over the age of 21 and women over the age of 30 to vote and the Act which enabled women to stand for parliament for the first time.
Reception at Nottingham Racecourse, November 2018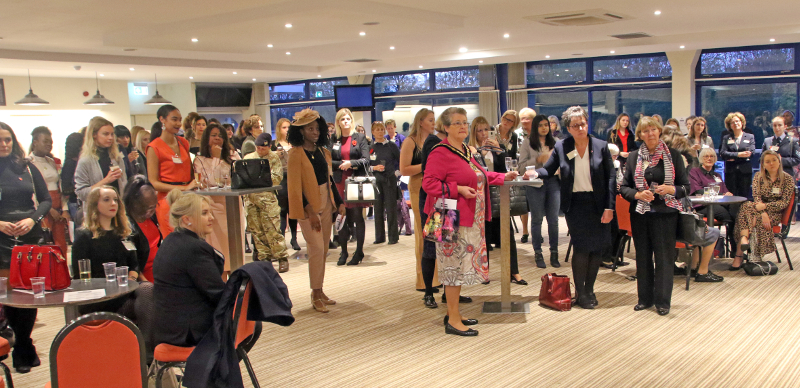 Hosted by the Lord-Lieutenant, Sir John Peace, a reception for 100 women in Nottinghamshire was held to recognise the importance of the 1918 Act and celebrate the achievements of women in the city and county of Nottinghamshire. 
The event was an opportunity for a number of young women to meet and be mentored by a successful women, and hear inspirational local speakers including Sarah Walker-Smith, the 2018 Nottingham Post Business Winner of the year, and Valentine Nkoyo, Director of Mojatu Foundation.
Some comments from those who attended are below:
"I brought along a young women who would never ordinarily have opportunity to attend such a prestigious event. She told me she doesn't know anything about voting or politics and hadn't voted. I honestly think this event is one she will look back on and see as life changing"
"I have been inspired to go for my dreams and shown I shouldn't be scared to ask for help"
"Thank you for the opportunity to network with these amazing women. The contacts and lessons I will take with me for the rest of my days"
"Everyone of us here today has felt a huge benefit from listening and meeting everyone present"
"An inspiring evening, and a privilege to be part of this historic occasion. Amazing speeches and good conversations"
Celebratory Service
A celebratory service was held at Southwell Minster in November 2018 to commemorate the first women and all men obtaining the vote.
Led by Dean Nicola Sullivan, the service focused on the importance of equality and diversity, together with the importance of building respect between men and women.
Over 600 people from Nottingham and Nottinghamshire, including young people from youth groups and schools. Each group was asked to draw up a pledge in support of young people in the future. Some of these are below:
"We will dare to be different, helping everyone to achieve their best".
- Oakfield School
"On behalf of Redhill Academy, I pledge to encourage all students to study any subjects and pursue any career they wish regardless of their gender or any other aspect of their identity."
- Redhill Academy
"The RAFAC aims to encourage the spirit of adventure, whilst promoting an interest in aviation and the Royal Air Force to young men and women from all backgrounds. The RAFAC will continue to offer training which will benefit its members in not only life in the services, but civilian life too; this is achieved by continuing teaching key skills such as: leadership , good citizenship and self discipline."
- Royal Air Force Air Cadets
"In the bible, in Galatians 3:28 it says 'there is neither Jew nor Gentile, neither slave nor free, nor is there male and female, for you are all one in Christ Jesus'. Therefore we pledge to treat everyone equally, not discriminating on grounds of gender, race, ethnicity , faith or sexuality . We promise to show the love of God to all just as he told us to do and to empower them to be the person God created them to be."
- The Boys and Girls Association
"To endeavour to support and mentor young women within our organisation in the future and within our own networks and community."
- Nottingham Castle Trust
"We, the students of the Dukeries Academy, Ollerton, aspire to live in a world where there are no barriers defined by gender, race, sexuality, religion or disability. We aim to achieve this by empowering ourselves through education, so that we can contribute to a society which is fair, just and open to all. We pledge this because diversity is a strength not a weakness."
- Dukeries Academy, Ollerton
"We as representatives of Elizabethan Academy pledge that we will pass on to future generations and our own children, the knowledge of and love for democracy and its impact on the nation as a whole. We also pledge that we will share what we gain from this service with peers and family."
Elizabethan Academy
"NUAST is a science and engineering school, two areas of expertise in which women are still to this day underrepresented. However as a student at NUAST I can see no divide between male and female, each of us share a likeness and a love for what we do. NUAST is a school for kids and young adults of atypical backgrounds, with kids coming from and being raised in various contrasting circumstances, no one kid is like another. The only group any of our students represent is that of NUAST. Thus, we hold enormous pride in our diversity. With council representatives for each faith in the school and equal opportunities for all genders, such as Kart building, book club or after school PE, total equality couldn't be less obscured. But our pride doesn't only stem from our establishments equality, rather it stems from how naturally this came to us. With plenty of strong and flourishing relationships formed between men and women of contrary beliefs and systems of faith, it couldn't be clearer that, to NUAST, equality isn't just a value we own, it is second nature. And so today we, at NUAST, pledge never to lead with bias. We pledge to accept all, especially in the scientific community, only for the content of their character. And we pledge that whomever so wishes to be great, if they work for it will be come it."
- Nottingham University Academy of Science and Technology (NUAST)
Publications
The working group from Nottinghamshire Lieutenancy have produced a legacy booklet and a short film as part of the Vote for Women 100 celebrations:
Christmas event in Hucknall
On 14 December 2017, one of our Deputy Lieutenants, Richard Bullock, represented the Lord-Lieutenant at a community Christmas event in Hucknall.
Organised by Jan Lees, the Community Champion for Tesco Hucknall, this was an opportunity to recognise the spirit and generosity of volunteers and community groups who are at the heart of Hucknall and work so hard to make their community special. The event was also sponsored by a number of other local businesses.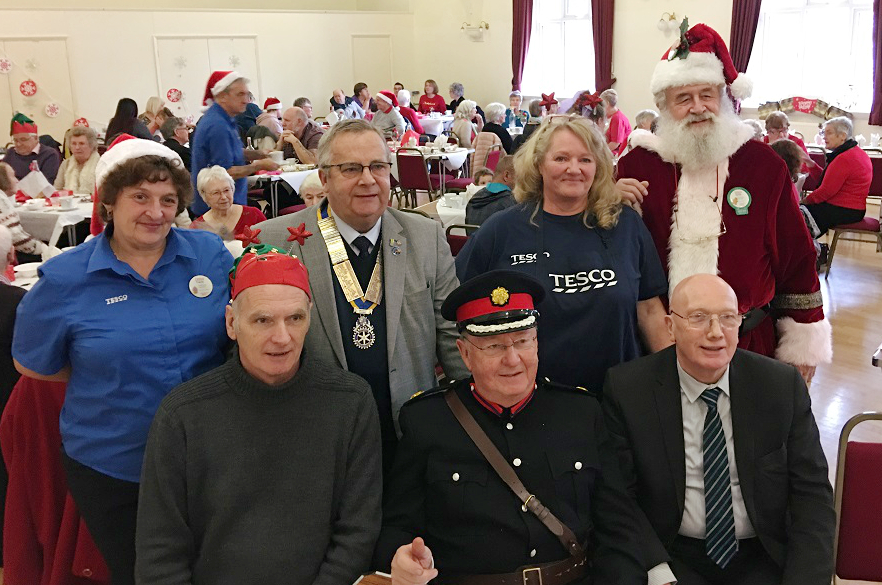 Prince Harry and Meghan Markle visit Nottingham
The Lord-Lieutenant was proud to welcome Prince Harry and Ms Markle to Nottingham on 1 December 2017.
It was the couple's first official visit together since announcing their engagement.
They were greeted by large crowds who had turned out in Nottingham's Lace Market area to give them and warm and enthusiastic welcome
You can read more about the visit on the official Royal Family website.