Tim Richmond OBE TD DL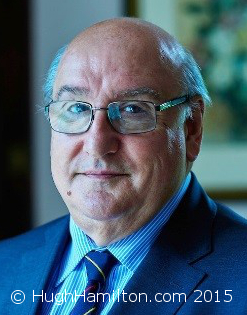 Tim is the Vice Lord-Lieutenant of Nottinghamshire, he was appointed in 2008 and has been a Deputy Lieutenant since 1990. He was High Sheriff of Nottinghamshire in 2002-2003.
A Chartered Accountant he spent 32 years in private practice, including serving as UK Managing Partner and subsequently International Chairman of his firm, he is now a consultant in business strategy, direction and performance and serves as a non-executive chairman and director of companies and organisations in the private, public and voluntary sectors.
In the public sector he is currently Chair of Futures which is jointly owned by Nottingham City Council and Nottinghamshire County Council providing advice and services to young people, careers advice, work experience and apprenticeship opportunities. He is also Chair of Portland College, a training college for the disabled based near Mansfield and is a former Patron of the Nottinghamshire Hospice, and a former member of the Southwell Minster Cathedral Council, the Cathedral Chapter and Council of Friends.
He has previously served as Deputy Chairman of Nottingham Trent University, a Competition Commissioner and member of the Monopolies and Mergers Commission, a Director of Nottingham Health Authority, a governor of New College Nottingham and a board member of the Chartered Management Institute.
A former officer in the Royal Artillery, Territorial Army, he is Honorary Colonel of the South Notts Hussars Yeomanry and was Commanding Officer of the East Midlands Universities Officers Training Corps and Deputy Commander of 49 (East) Brigade before serving as County Commandant of Nottinghamshire Army Cadet Force and subsequently Chairman of the national Board of the Council of Reserve Forces and Cadets Association.
He has been married to Susan since 1974. They have four children and three grandchildren.