Health and Wellbeing Strategy Engagement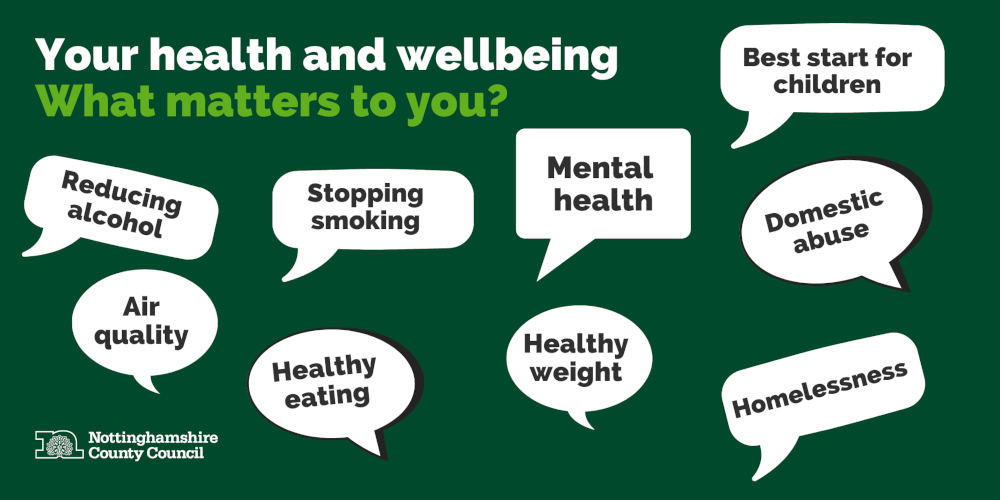 The Joint Health and Wellbeing Strategy is Nottinghamshire's plan for improving the health and wellbeing of our residents, and for reducing health inequalities. Good health is an asset for individuals and communities.
Access to health and care services is important but only forms a small part of our health and wellbeing. Factors like housing, employment, education, food, transport, air quality and community networks also play an important role.
Have your say
We are developing a new Health and Wellbeing Strategy for 2022 to 2026 and want to hear from you on what matters to you and your health and wellbeing. You can give us your views by attending a roadshow event or by completing our online survey. The results will be used to set our priorities for the next four years.
Online survey
Tell us your views - Nottinghamshire Joint Health and Wellbeing Strategy 2022 – 2026

We also want to hear from children and young people about what matters to their health and wellbeing on our Children and Young People's Survey.
Health and Wellbeing roadshows
Please note that given recent changes to national guidance announced on 8/12/21 for everyone's health and safety the roadshow events will now take place on Microsoft Teams. Everyone who signs up via Eventbrite will be contacted with instructions on how to join the virtual roadshows. If anyone has any queries please contact a member of the team at: nottshws@nottscc.gov.uk
Book a free place on one of our virtual sessions: