Covid Local Support Grant: Information for members of the public
The Covid Local Support Grant Scheme aims to provide support to families with children or young people, particularly those who have been affected by the pandemic where alternative sources of assistance may be unavailable.
Are you part of a household with children struggling financially because of Covid-19? If so, help may be available through Nottinghamshire County Council's Covid Local Support Grant, funded by the Department of Work and Pensions.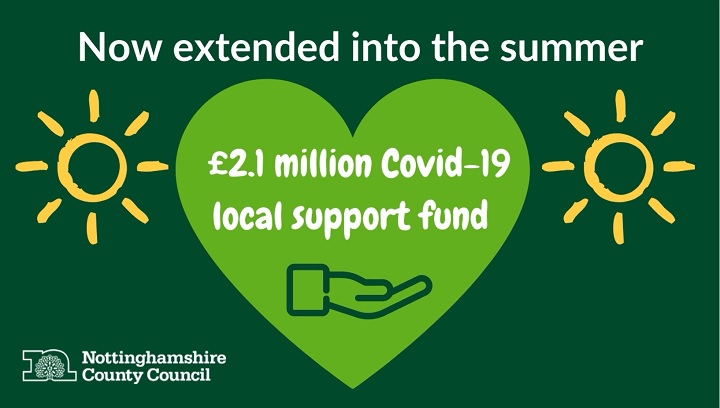 The Covid Local Support Grant has been extended to cover the summer holidays. This means that Nottinghamshire County Council will be providing funding for supermarket vouchers for children and young people eligible for free school meals or relevant funded childcare.
Who is eligible?
Children and young people claiming free school meals
2 year olds accessing funded childcare
3 and 4 year olds in receipt of Early Years Pupil Premium
Eligible children and families will be contacted by their school, alternative education provider, College, or early years provider and families will be issued a £75 voucher to cover the 5 week holiday. This will include young people in years 6, 11 and 13 who may have recently left their school.
Vouchers will not be available on request by professionals as there is insufficient funding to allow for this.
If you are in urgent need of support, you may be able to access support through the Nottinghamshire Coronavirus Community Support Hub. To speak to a customer service representative about this, you can call: 0300 500 8080 (open 8am to 5pm, Monday to Friday).
Queries
If you have any queries about this scheme, please email CovidLocalSupportGrant@nottscc.gov.uk
Additional help and support
Meal and Recipe Ideas for Families
We have worked with the School Meals Service and 'Your Health, Your Way' to create some recipe cards and meal ideas that could be shared with families. Please use these if parents are struggling with ideas for healthy low cost meals.