Service Users & Carers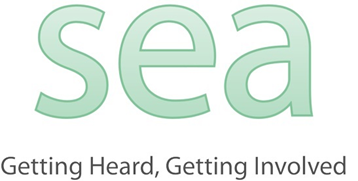 SEA is an independent Advocacy and Participation service.
We enable people within Housing, Health and Social Care settings to have a voice and participate within the services they receive.
We support and train individuals to get involved, endeavouring to make people aware of their choices and encouraging their involvement at a strategic level as we believe this leads to real sustainable change.
SEA work alongside local Universities to develop and deliver activities which provide social work students with an opportunity to learn from people who have lived experience, developing the practical skills and knowledge of students in an inclusive and informative manner.
Our experience has shown us that access to an independent Advocacy service leads to positive results for participants, staff and service providers. Our working practice is based on the concept of "Dialogue not Confrontation" this happens by encouraging and enabling participants to speak up and have their views heard.
For further information contact: Zoe Bendelow zoe@seaparticipation.org.uk

We work with public agencies, authorities and educators to protect and promote the rights, well-being and opportunities of people who use services. We support collaborative partnerships between academics, agencies, practitioners and people using social, health and welfare services to build resilient communities of survival and growth. Making Waves presenters all live with the impact of past or present mental distress or difference and are affiliated with the Institute of Mental Health (IMH) through their unique peer-led research group Open Futures.
Our work with local universities, public agencies and institutes of mental health and wellbeing includes:
teaching on all pre and post reg courses for mental health social workers and nurses
co-production of experiential assessment framework for mental health nurses
validation, delivery and moderations on post-reg Best Interest Assessor programmes and teaching on post-reg AMHP courses
representation on domestic violence, safeguarding, equality/diversity forums
collaborations in new dementia research and new law and mental disability network
distance learning mental health educational films, clips and podcasts – e.g. Talking Heads co-produced with both students and tutors
publications and presentations at national conferences and policy forums
volunteer advocacy and benefits activism for and with individuals in mental distress
peer support and community development capacity building for involvement and for survivor action-research.
For further information about our work, and to find out how you might become involved please email:     makingwaves1798@hotmail.com