Mandy and Louise's adoption story
"Same-sex couples tend to make very empathetic and understanding parents"
Mandy and Louise always wanted children. In May 2013, their dreams were realised when the Rushcliffe couple adopted a brother and sister.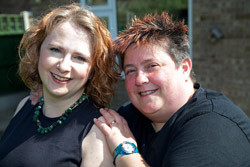 Mandy said: "We were never in doubt that we wanted to adopt siblings because they'd have a biological connection to one another. Louise always wanted to be a mum, but when IVF treatment didn't work for us, we started thinking about adoption. We also weren't getting any younger.
"And for many same-sex couples, adoption will be the only the option available to them, although it's not always clear that same-sex couples are eligible to adopt. 
"I know there has been a lot of research around children adopted by same-sex couples thriving in the same way as those adopted by heterosexual couples. The evidence also points to same-sex couples tending to make very empathetic and understanding parents who are more accepting which is quite possibly down to the prejudice they may have faced in their lives around their own sexuality."
Mandy and Louise's adopted children, Alice and Max, now aged 4 and 2, were placed with them in September 2012 and they received their adoption order through in May last year.
Meeting our children
"We first met the children in the August 2012 with their foster carer who was brilliant. Alice and Max have settled in really well. Alice is very sociable and outgoing and Max tends to be a bit of a climber, scaling almost anything – extremely curious and mischievous," explained Louise.
Mandy gave up her job as a university schools liaison officer when the children came to live with them, but says that she'll consider returning to work part-time once both children are at school – Alice starts this September. Louise is a university lecturer.
Mandy added: "The process to get approved as adopters was quite full-on, but necessarily so. There were highs and lows and it was emotionally challenging for both of us. However, because it's goal-orientated, the pain was definitely worth it. Our lives have changed so much for the better.
Getting support
"We got a lot of support from our family and friends, and during the adoption process, a lot of emotional support through the Council's fantastic preparation group – these were other potential adopters we met up with regularly who were going through the process at the same time as us. In fact, some of them are now really close friends."
If you share a similar story to Mandy and Louise and need advice or support or just want to talk, contact us: