Southwell Trail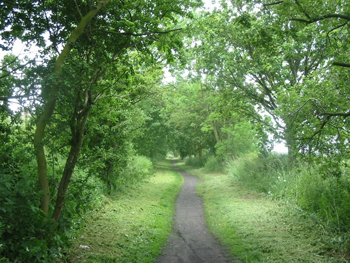 a long history dating back to 1842 and a former railway line
an important route for wildlife, providing a habitat corridor through the landscape
forms part of the Central Linear Route – a multi-user route for people to enjoy on foot, cycle and horseback
a number of free public car parks at Kirklington, Farnsfield and Bilsthorpe
dogs welcome on a lead or under close control.
The Trail supports a wide range of habitats, because it crosses two distinct geological areas. These are the Sherwood Sandstone to the north around Bilsthorpe and Farnsfield and the Mercia Mudstone further south from Kirklington towards Southwell.
The Sherwood sandstone is acidic and supports soils low in nutrients yielding relatively few species. Typical habitats on this part of the Trail include scrub and acid grassland.
The Mercia Mudstone is entirely different, being characterised by species rich meadows and woodlands. Species to look out for among these habitats include the common lizard (in the open areas around Farnsfield), various birds of prey including sparrow hawks and many butterflies, for example, the speckled wood.
The Trail is most easily accessible by all at Farnsfield, elswhere barriers have been raised to assist wheelchair access.
On a trip to the Southwell Trail
walk, cycle or horse ride along the Trail
spot the diverse bird population including yellowhammer, spotted flycatcher, goldfinch, green woodpecker, willow tit and common whitethroat.
look out for common lizards, which can be found in the open areas.
Map
Nearest Town/Village: Southwell, Edingley, Kirklington, Farnsfield & Bilsthorpe
Access points and grid References: SK 707 545 to SK 651 605
Southwell Car Park: SK706543 | NG25 0GL
Kirklington Car Park: SK 675566 | NG22 8NJ
Farnsfield Car Park: SK 643572 | NG22 8LB
Bilsthorpe Forest Link Access Point: SK649601 | NG22 8UH