Green light for £20m Nottinghamshire roads investment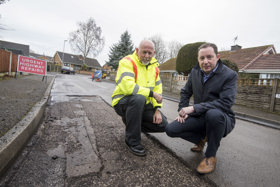 Councillors have agreed a recommendation to invest an extra £20m in Nottinghamshire's roads over the next four years.

The budget report, which was approved by members of the Finance and Major Contracts Management Committee yesterday (6 February), commits a total of £142m of capital investment in the county's roads between 1 April this year and 31 March 2022 - its highest level in more than a decade.
The additional funding is in direct response to public concerns about the condition of Nottinghamshire's road network and has come from savings elsewhere in the capital programme.

It will be focused mainly on residential roads assessed as being likely to deteriorate in the next few years, with a view to saving money that would have been required for repairs in the longer term.
Councillor Richard Jackson, Chairman of Finance and Major Contracts Management Committee, said: "Time and again, local people tell us that their number one concern is the state of the county's roads, so I am pleased that we have been able to commit to significantly increasing our highways budget for the next four years.

"With 2,600 miles of highway to maintain, the extra £20m will not solve every problem, but it will make significant difference to roads which have been neglected over the last few years. We will aim to ensure the schemes provide the best possible value for money - avoiding larger repair bills in years to come, reducing compensation claims and helping our economy by cutting congestion."
The budget report also includes a proposed 2.99% increase in council tax and 2% adult social care precept. This will mean an increase of just over £1 per week to the average council tax bill in Notts and will ensure vital social care and other important services are retained.

Combined, the adult social care precept and council tax increase will raise £16.4m, which still falls short of the £21.8m reduction in Government funding the County Council faces next year.

The cost of providing social care services to older people, people with disabilities and vulnerable children in Nottinghamshire is expected to increase by £46m by 2021, due to increased demand. Over the same period, Government funding for services will fall by a further 52%.

Councillor Jackson added: "Regretfully, the budget pressures are so substantial that we have no choice other than to ask local people to pay more to keep our social care services going and, in turn, prevent further strain on the NHS.

"I was proud to be part of the last Conservative administration at Nottinghamshire County Council, which froze council tax every year from 2009 to 2013. We introduced significant, efficiencies and engrained a value-for-money culture which has saved £255m in running costs since 2010.  But now we're being squeezed more than ever before by the spiralling costs of social care and reductions in Government funding.

"Whilst the announcement today that an additional £150m social care support will be provided nationally to support authorities next year is welcome, it will not be enough to meet the immediate need. We will continue to press the Government to provide the long term, national solution that is urgently required for properly funded social care services."

The final budget for 2018/19 will be considered by Full Council on 28 February.
ENDS