County's gritters set to clock up 200,000 kilometres - equivalent of 147 round trips to Paris
Nottinghamshire County Council's gritting teams are set to clock up almost 200,000 kilometers tonight (Tuesday) with road temperatures due to plummet to below freezing again.

That's the equivalent of 147 round trips from Nottingham to the capital of romance, Paris so far this winter. With temperatures set to rise a few degrees in time for Valentine's Day on Wednesday, our teams will be taking a brief break, ready to head out again this Thursday and Friday, with the Met office predicting a return to below freezing temperatures for the rest of the week.

Councillor John Cottee, Committee Chairman for Communities and Place, who recently went out on a gritter run from the Gamston depot, one of the four County depots where salt is distributed from, said,

"Our gritting teams are doing a sterling job in freezing conditions. I have seen for myself the amount of preparations which take place before every gritting run. Every time our teams go out to salt our main gritting route, around 2,500 kilometres are travelled.
"Since the first gritting run of the season back in November and including tonight's run, our teams will have gone out 79 times, travelling almost 200,000 kilometres to salt main routes and severe snow routes where necessary, which is the equivalent of making 147 trips to Paris and back again."
More than 9,000 tonnes have already been used so far this winter, from our 20,000 tonnes of salt barns which are being constantly replenished.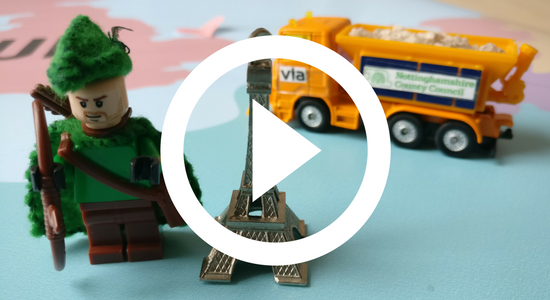 The data is monitored from Via East Midlands' Newark depot. Via is managing highways services on behalf of Nottinghamshire County Council as they work in partnership on the ongoing annual winter planning preparations. The teams will continue to monitor the situation closely and look at weather forecasts.

The County Council and Via East Midlands continue to work with district and parish councils to ensure the maximum practical winter support can be provided to communities across the county.

In addition to salting roads, the County Council and Via East Midlands provide, maintain and fill around 1,380 roadside grit bins across the county for use by local communities.

In the event of bad weather, do you have a plan on how to get to work or your chosen destination? Be prepared and plan your route with our help, using the gritting routes shown on these online maps: www.nottinghamshire.gov.uk/gritting

You can see more winter weather alerts and information by following our Twitter account www.twitter.com/nottscc

ENDS