4Uth 2017 winners
The Nottinghamshire Outstanding Achievement Award 4Uth is a Nottinghamshire County Council initiative to celebrate the achievements of young people across the county.
There were 85 nominations from across Nottinghamshire this year.
Judging panels in each district decided the winners from three nominations in each district, and a judging panel assessed the final seven.
County Hall hosted this year's final on 27 October. The achievements of seven district winners were celebrated and the overall county-wide winner was awarded to Kaitlin Rose.
Around 100 people including family and friends of each of the finalists and members of the youth service attended along with Nottinghamshire County Council Leader Councillor Kay Cutts and Chairman Councillor John Handley.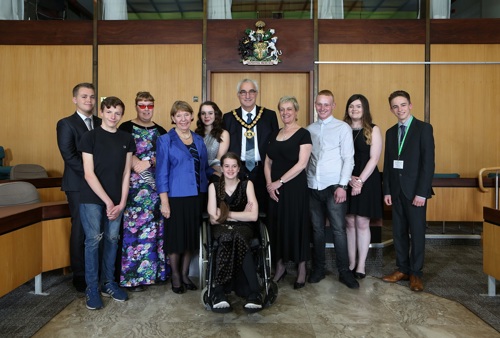 Gedling winner: Sam Watson
A young footballer who has trained at St George's Park - the home of the English Football Association's national football centre - despite living with a difficult medical condition, has been named as a youth award winner.
Sam Watson is 17 and lives in Calverton, and has won the Gedling district 4Uth award for the way he has approached life and how he has overcome significant barriers his condition has presented as well as other hurdles in his life.
He was nominated by his youth worker Sean Ryan who explains: "Since birth, Sam has been challenged with a life impacting spinal condition called scoliosis, which affects the body's ability to move and function properly. Despite numerous hospital visits, operations and setbacks, Sam has battled bravely not to allow his condition hold him back in life.
"When he was seven Sam was told that he would no longer be able to play for a local mainstream football team; a team that he had become passionately involved with. Although deeply saddened by the decision, he was not discouraged. He continued to practice his footballing skills, sometimes alone, until an opportunity arose to join a local disabled football team.  Within months of playing again he was selected to represent the county (Nottinghamshire) disabled football team, and not too long after that he was selected to train and represent his country (England) in an international disability football tournament held at St George's Park."  
Sam continued to rise above personal challenges and painful realities. His mother Michelle died of lung rejection less than a year after a double lung transplant she had on 18 July 2015, passing away on 3 June 2016. Sam provided important care and support for his mum before she died whilst undertaking his GCSE examinations. Sam lives with dad Jim and has three siblings, Christopher, Laura and James.
Today, Sam continues his inspiring journey and, once again, is playing football in a mainstream team. Samuel also has an apprenticeship with the NHS and starts in October as a Health Care Assistant.
Sean added: "Sam's unwavering attitude in the face of adversity, setbacks and tragedy, has earned him much respect and admiration from his peers. He has become a humble role model who carries a powerful and inspiring message about courage and perseverance – to quote Sam: 'no matter what obstacles you face in life, keep going, you can achieve your goals."
Councillor Tracey Taylor, Vice-Chairman of the Children and Young People's Committee, at Nottinghamshire County Council, said: "It is a remarkable achievement for Sam to have represented England and Nottinghamshire at football, and he has shown great resilience and courage in his life to achieve so much. Many congratulations to Sam on being named as the Gedling district 4Uth award winner."
---