4Uth 2017 winners
The Nottinghamshire Outstanding Achievement Award 4Uth is a Nottinghamshire County Council initiative to celebrate the achievements of young people across the county.
There were 85 nominations from across Nottinghamshire this year.
Judging panels in each district decided the winners from three nominations in each district, and a judging panel assessed the final seven.
County Hall hosted this year's final on 27 October. The achievements of seven district winners were celebrated and the overall county-wide winner was awarded to Kaitlin Rose.
Around 100 people including family and friends of each of the finalists and members of the youth service attended along with Nottinghamshire County Council Leader Councillor Kay Cutts and Chairman Councillor John Handley.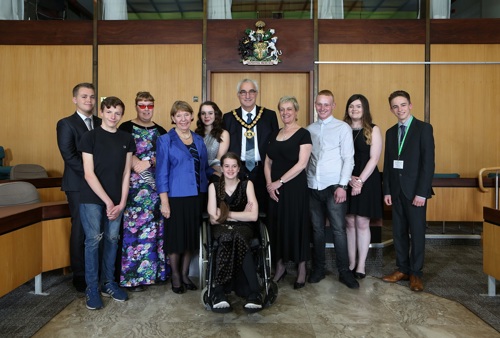 Ashfield winner: Connor Sharman
Teenager Connor Sharman has been awarded the 4Uth award for Ashfield after overcoming adversity.
Connor is 18 and lives in Kirkby-in-Ashfield. He was nominated for the award by Zoe Gent, Senior Case Manager with the Youth Justice Service.
Zoe said: "Connor fell victim to his circumstances at a young age, but in the face of adversity he was able to find the strength on two separate occasions to make very positive changes. Throughout this he was selfless in caring for two people on a full time basis - devoting everything he had to them. He has evidenced a sustained change in his lifestyle and continues to make progress. He is a very pleasant and polite individual whose smile can 'light up a room'."
Connor experienced a very traumatic period between 2013-2016, following diagnosis of learning needs and being bullied at school.  He did not feel confident or capable and started to not attend school; this led to him starting to associate with negative peers and use substances to help improve his mood as he was feeling very sad and negative about himself and his future. He started to suffer with anxieties and would use more substances to make himself feel better. This also led to involvement in offending. Slowly his lifestyle became very chaotic and negative, and a period living in supported accommodation was needed. Despite this, Connor engaged with Youth Justice Service workers and remained at all times a pleasant and polite young person, determined to make positive changes.
Zoe said: "Connor's maternal grandmother became very ill in 2015 and he moved in with her to become her full time carer. He took good care of her and worked hard to reduce his substance use knowing that this was something he needed to do. Through engaging with his workers and a significant amount of commitment, Connor was able to take medication for his anxiety and stop using substances. He was also attending a college course. Sadly, Connor was mugged shortly afterwards, and then his grandmother passed away.
"Despite these traumatic events Connor was able to hold himself together and remain substance free. He was supportive for his family members and helped his mum sort things out following his grandmother's funeral. Connor wanted to use his experiences to help workers and other young people, and agreed to be filmed talking about his use of substances and what had driven him to do this. This film was viewed by professionals and young people and has proved valuable. Connor has also assisted the NHS in sitting on the panel when interviewing for a member of staff."
Unfortunately, a few months later it appears events took their toll on Connor and he started to revert to his previous substance using lifestyle and things hit rock-bottom for him. His girlfriend was then involved in a nearly fatal motorbike accident and he moved in with her for a number of months to take complete care of her. She was wheelchair bound and he tended to her every need. During these months Connor reflected on his actions and his future, and decided he needed to make permanent positive changes.
Zoe added: "Connor was able, with extensive support, to stop using substances, keep out of trouble with the police, and build on family relationships. His Court Order was revoked early on the grounds of good progress made and because he was working full time (he is currently undertaking a plastering apprenticeship). It has been five months since his case with the Youth Justice Service closed and Connor continues to do well. He continues to have positive relationships with his family, and has agreed to be on panels for the Youth Justice and NHS services should they require young people's views and opinions."
Councillor Tracey Taylor, Vice-Chairman of the Children and Young People's Committee, at Nottinghamshire County Council, said: "Many congratulations to Connor for what he has achieved in the face of very challenging circumstances. He can be rightly proud of what he has done and is a worthy district winner of the 4Uth award for Ashfield."
---