Tim Gregory: Corporate Director, Place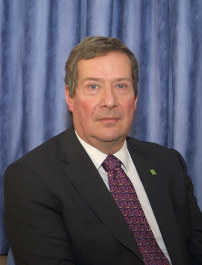 Tim joined Nottinghamshire County Council in 2009 following four years with Wiltshire County Council as the Council's service director for ICT and procurement. Tim led on the creation of Wiltshire Council as a unitary authority.
Prior to his local government experience, Tim served for 27 years with the Royal Marines reaching the rank of Brigadier and fulfilling significant roles as the Corporate Director for the Defence Communications Service Agency and acting as Deputy Defence Attaché at the British Embassy in Washington. This was after military posts in all three Commando units and service in Northern Ireland, Cyprus and Iraq.
Tim manages many of the most visible frontline services including highways, transport, waste and recycling and the catering, cleaning and landscaping services that the Council provides to many local schools.
Tim has responsibility for the Council's place-based services such as property and planning. He is also responsible for Voluntary and Community Services, and Economic Development and Devolution.
Salary and pension
The overall remuneration package includes a basic salary as well as the amount the Council has to contribute to the pension of Local Government Pension Scheme members. Those Chief Officers who are members of the LGPS and earn between £100,000 and £150,000 pa contribute 11.5% of their salary to their membership of the scheme. The Employers contribution to the pension of all employees at all levels is currently 19.2%. All Chief Officers are paid on a fixed salary.
Senior managers are expected to be on call at all times including weekends. Nottinghamshire County Council does not at this time provide any benefits that an equivalent senior manager in the private sector might receive in addition to the basic salary - for example performance-related bonuses, private health care or company cars.
Tim has received no pay increase since 2009.
| | | |
| --- | --- | --- |
| Period  | Total salary  | Employer pension contributions at 19.2%  |
| April 2015 - March 2016  | £121,371 | Not currently a member of the LGPS  |
Expenses claimed
All expenses are paid to employees in the course of carrying out duties in line with the Council's Travel and Accommodation Policy which is part of the nationally agreed terms and conditions of service and detailed in part six of the Council's Constitution, on pages 6-73 to 6-78. These conditions are supplemented by the Council's local conditions laid down in the Policy on the Payment of Travelling Allowances and Policy on the Payment of Subsistence Allowances, as set out in Appendices 11 and 12 of the Pay Policy Statement. 
Expenses paid are liable to tax.
January to December 2016
| | | | | |
| --- | --- | --- | --- | --- |
| Month | Accommodation costs | Business mileage | Other expenses (inc. car, parking, train fares) | Total |
| January |   |   | £77.20 | £77.20 |
| February |   |   | £136.90 | £136.90 |
| March |   | £328.50  | £132.05  | £460.55  |
| April |   |   |   | £0.00 |
| May |   | £453.60 | £187.75 | £641.35 |
| June |   |   | £142.75 | £142.75 |
| July |   |   | £70.20 | £70.20 |
| August |   | £290.25 | £32.04 | £322.29 |
| September |   |   | £165.15 | £165.15 |
| October |   |   |   | £0.00 |
January to December 2015
| | | | | |
| --- | --- | --- | --- | --- |
| Month  | Accommodation costs  | Business mileage  | Other expenses inc. car parking, train fares  | Total  |
| January  |   | £196.65 | £19.40 | £216.05  |
| March  |   |   | £129.60 | £129.60 |
| June  |   |   | £473.70 | £473.70 |
| July  |   |   | £21.90 | £21.90 |
| August  |   | £145.80 |   | £145.80 |
| September |   |   |   |  £00.00 |
| October |   |   |   |  £00.00 |
| November |   |   |   |  £00.00 |
| December |   |   |   |  £00.00 |
| Total  | £0.00 | £342.45 | £644.60 | £987.05 |
January to December 2014
| | | | | |
| --- | --- | --- | --- | --- |
| Month  | Accommodation costs  | Business mileage  | Other expenses inc. car parking, train fares  | Total  |
| March  |   | £338.85 | £186.00 | £524.85  |
| April  |   |   | £68.20 | £68.20 |
| August  |   | £263.25 | £4.40 | £267.65 |
| November  |   |   | £209.00 | £209.00 |
| Total  | £0.00 | £602.10 | £467.60 | £1,069.70 |
January to December 2013
| | | | | |
| --- | --- | --- | --- | --- |
| Month  | Accommodation costs  | Business mileage  | Other expenses inc. car parking, train fares  | Total  |
| March  |   |   | £78.50 | £78.50  |
| April  |   | £648.00 | £21.90 | £669.90  |
| August  |   | £227.25 |   | £227.25 |
| September  |   |   | £342.00 | £342.00 |
| Total  | £0.00 | £875.25 | £442.40 | £2,635.30  |
January to December 2012
| | | | | |
| --- | --- | --- | --- | --- |
| Month  | Accommodation costs  | Business mileage  | Other expenses inc. car parking, train fares  | Total  |
| March  |   | £64.80 | £155.00 | £219.80  |
| April  |   |   | £55.50 | £55.5 |
| May  |   | £146.70 |   | £146.70 |
| August  | £65.21 |   |   | £65.21 |
| September  |   | £212.40 | £157.00 | £369.40 |
| October  |   |   |   |   |
| November  |   | £193.05 | £15.50 | £208.55 |
| Total  | £65.21 | £616.95 | £557.00 | £1,239.16  |
January to December 2011
| | | | | |
| --- | --- | --- | --- | --- |
| Month  | Accommodation costs  | Business mileage  | Other expenses inc. car parking, train fares  | Total  |
| April  |   |   | £20.50 | £20.50  |
| June  |   | £206.30 | £20.50 | £226.80  |
| October  |   | £88.20 | £48.60 | £136.80 |
| November  |   |   | £41.00 | £41.00 |
| December  |   | £193.50 | £7.70 | £201.20 |
| Total  | £0.00 | £488.00 | £138.30 | £626.30 |
January to December 2010
| | | | | |
| --- | --- | --- | --- | --- |
| Month  | Accommodation costs  | Business mileage  | Other expenses inc. car parking, train fares  | Total  |
| April  |   |   | £20.50 (train fare)  | £20.50  |
| June  |   |   | £20.50 (train fare)  | £20.50 |
| October  |   |   | £38.60 (train fare)  | £38.60  |
| November  |   |   | £41.00 (train fare)  | £41.00 |
| Total  | £0.00 | £0.00 | £120.60 | £120.60  |